Italian Rodeo Cruelty
In September 2006 FAACE investigated two rodeo events which took place at the "Cowboys' Guest Ranch" in Voghera (Pavia).
We were shocked by the cruelty we witnessed during these events. Horses and bulls were shocked with electric prods (pics below) again and again to make them buck - even in the USA this is illegal.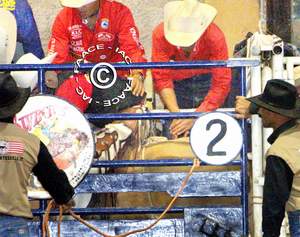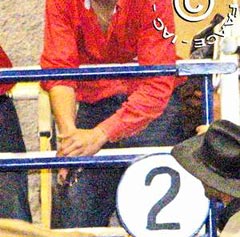 The flank strap (left) was used on the bulls and horses as were spurs.

In rodeo the spurs (left) have to be kicked into the neck and shoulders of the animals. Points are awarded to the cowboy for this.

In the case of the bulls, the spurs are dug into the animal's belly to enable the rider to hold on to the animal.

The horses fell down repeatedly because of the stress.

The next day we could see the wounds and scars made by the spurs on the horses' necks andshoulder.
In another event small goats were terrified when riders on horseback raced towards them at full gallop, whilst they were tied to a fence. The goats were also panicked when hundreds of children tried to get scarfs off their necks.
Calves tried to break out of their restraining cage in panic, which might well have resulted in serious injuries.
What we saw in Italy in September 2006 an absolute disgrace.
Please write a PROTEST LETTER to the Italian President
Presidenza del Consiglio dei ministri
Palazzo Chigi
Piazza Colonna 370
00187 Roma - Italy

tel. (+39) 0667791

and to the Ministry of Agriculture

Politiche Agricole,
Alimentari e Forestali
Via XX Settembre, 20
00187 ROMA - Italy

email: ufficiostampa@politicheagricole.gov.it - urp@politicheagricole.gov.it
and to the Italian Ambassodor Giancarlo Aragona:
email: ambasciata.londra@esteri.it - stampa.amblondra@esteri.it